JIL CHAMBLESS and SCOOTER MUSE
"Traditional classics revisited in a new and unique fusion of sounds and style, with both artists adding their own brand of musicality to a host of songs, some well-known and others less so. Thoroughly enjoyable throughout, the CD combines vocal excellence with outstanding, sensitive and intelligent instrumentation. For me, quite simply as good as it gets!" ~ Alex McKinven, Mull of Kintyre Music & Arts
For more than 25 years, Alabama natives Jil Chambless and Scooter Muse have been performing the music of Scotland, Ireland and America with various ensembles in a wide variety of venues, from simple house concerts to festivals and concert halls. Jil and Scooter have been fortunate to work alongside many of the finest artists in Celtic music, resulting in many spontaneous collaborations. In 2010, Chambless & Muse began performing as a duo to promote their individual solo projects. Since then they have released several CDs, The Laverock Sang (2011), Passing Tales & Glories (2014), Live @ NTIF with John Taylor (2016), and The Lang Awa' Ships (2017).
As singer and flute and whistle player, Jil Chambless has performed across the US as well as in Canada, Scotland, and Israel with the band Henri's Notions, Chambless & Muse, Scottish singer Ed Miller, Scottish fiddler John Taylor, the band Vulcan Eejits!, The Mairtin deCogain Project, the John Whelan Trio, the Vogt Family Contra Band, and others. In 2009, Jil released her first solo CD, The Ladies Go Dancing, produced by the legendary Brian McNeill. Jil brings to any audience a wonderful listening experience from haunting ballads to upbeat songs with a smooth delivery that never fails to bring both smiles and tears in each and every performance. See www.jilchambless.com
Although Scooter Muse has his roots in bluegrass and is quite an accomplished 5-string banjo player, in the late 1980s he moved into the world of Celtic guitar and soon after founded the Full Moon Ensemble, performing for eight years across the US and in Scotland before joining Henri's Notions in 2003. In 2005 Scooter released his first solo recording of original guitar instrumentals, Saddell Abbey, which he is proud to say was purchased by the Scottish Tourist Board in Kintyre. The Saddell Abbey Trust of Scotland calls the recording, "…a haunting and beautiful piece of music." See www.scootermuse.com.
Sugar Harp's "Back Alley, Storytelling" Blues
When Charles Burroughs was 8 years old, his great-grandfather would simultaneously blow harp and strum a handmade guitar formed from an orange crate and broomsticks. Charles would say, "Grandaddy, I need to do that."
If you witness what Charles describes as his "down in the gutter, back alley, storytelling blues" today, you'll know he inherited his great-grandfather's creativity and musical talent. In the decades since he first picked up the harmonica, he has more than earned his moniker, Sugar Harp.
"IF YOU LOOK AT THE OLD BLUES ARTISTS, THEM GUYS COULDN'T EVEN READ. THEY PLAYED BY EAR; THEY DIDN'T KNOW ANYTHING ABOUT NO SEVENTH CHORDS, ABOUT NO WHEEL OF FIFTHS. ALL THEY HAD TO DO WAS PICK UP A GUITAR AND SING ABOUT HOW THEY FEEL."Sugar Harp
But recently, Sugar Harp found himself sugarless and harpless. On November 26, 2019, driving his van — packed with all of his treasured belongings, including his harmonicas — through his hometown of Birmingham, Alabama, Sugar Harp noticed a driver in another vehicle motioning to him frantically. Sugar's van was becoming engulfed in flames. Moments later, Sugar acted on instinct, jumping out of the moving vehicle, and rolling on the ground to extinguish the fire that had spread and caught onto his jacket. Sugar was completely distraught, and soon thereafter, when the pandemic hit, he worried he might be done playing the harmonica for good.
But a year and a half later, with the help of a few friends, Sugar had a new ride, a set of harmonicas, and an optimistic attitude. He joined Music Maker in Birmingham in May of 2021 to record a few songs. Upon first introductions, Sugar seemed like a wise, reserved, wordly professor. But despite his quiet demeanor, once you get Sugar started talking or singing, his passion and joy for the music is clear. Sugar has a way with words in his songs: His original lyrics are a little raunchy, full of innuendo but always clever. He guides listeners to draw their own conclusions, never saying anything X-rated outright, keeping his shows technically family-friendly but keeping the audience cracking up.
For Immediate Release
Contact: Russell Gulley
256-845-0203 home office
727-308-8156 cell
Email: This email address is being protected from spambots. You need JavaScript enabled to view it.
Florence,Al.
THE SALT AND PEPPER ROOTS MUSIC CELEBRATION Presents DEEP ROOTS
As the Salt & Pepper Series moves into SEASON 7, it is honored to be one of the recipients of a grant from the Alabama State Council on the Arts, and the National Endowment for the Arts, a federal agency.
The music series is presented quarterly at UNA'S The Mane Room in partnership with The Music Preservation Society, the presenters of the annual W.C.Handy Festival, and The Alabama Folklife Association (AFA), a partner of the Alabama State Council on the Arts (ASCA).
Season 7 of the Salt & Pepper is continuing to focus on Traditional and Roots Music and its influence on the Muscle Shoals Music Industry's contributions to the American Soundtrack. Gospel, Soul, Blues, Country, Rock and Roll, and Folk Music are at the roots of the American Soundtrack and very much a part of the Sound of the Shoals.  Russell Gulley, a long time AFA board member and director of the series, along with associates, Dick Cooper, Bob Garfrerick and Tori Bailey are proud to announce the premier of Season 7 on Oct. 28th featuring the Deep Roots of Celtic Music and Blues.
The Oct. 28th Presentation will feature Celtic Music, one of the earliest Roots of American Country Music as performed by the internationally acclaimed CHAMBLESS AND MUSE and introduces The Blues of Music Maker Foundation artist, CHARLES "SUGAR HARP" BURROUGHS. Special Guest, MAXWELL RUSSELL, the Muscle Shoals "Blues Guru", will open the performance at The Mane Room at 7:00 pm. Doors open at 6:00 pm.
The July 22nd 2021 event featured Grammy Award Winner for Traditional Blues, the legendary Bobby Rush and marked the beginning of a new era for The Salt and Pepper. Under the direction of former mainstays at Alabama Public Television, Bob Corley and Sandra Polizos, the music series has begun to be streamed live on YouTube. The productions will be broadcast quality and will be edited for distribution to television as well as radio.
In fact March 17th 2022, marked the debut broadcast on APT. Catch it at the UNA Mane Room and enjoy what is now promoting the Shoals Music Scene World Wide.

Funding from The Alabama Folklife Association and Exe.director Emily Blejwas is making this advancement possible and the live stream of the Oct. 28th performance will be accessible on YouTube.
There will be a limited number of seats available.The event is family friendly and students are welcome.  For information contact Russell Gulley at 256-845-0203 or This email address is being protected from spambots. You need JavaScript enabled to view it.
---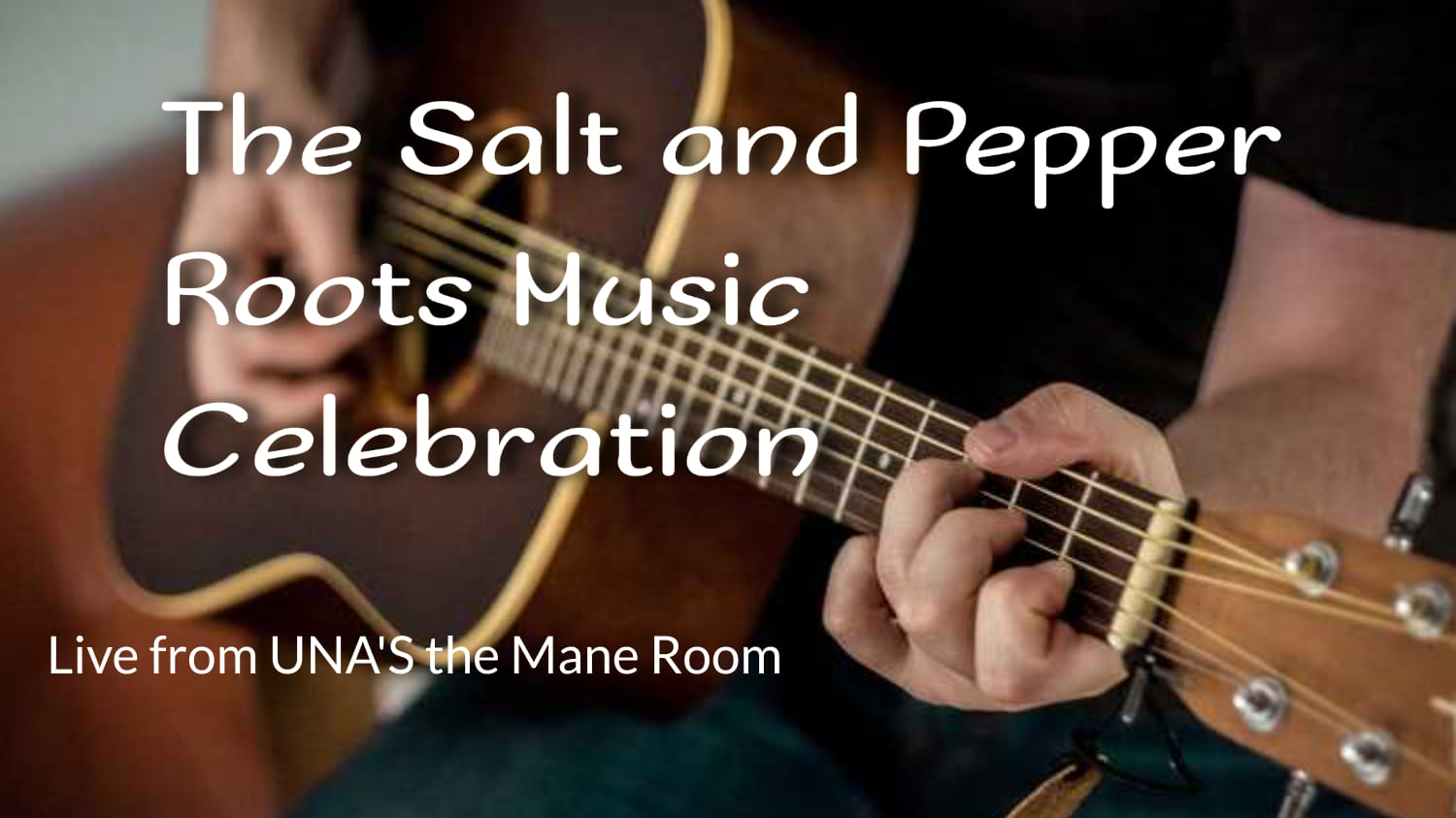 ---
Tickets at the door will be $20.00. Advance tickets are available for $15.00 at Counts Brothers Music in Muscle Shoals, Ye Ole General Store in Florence, and at WZZA Radio in Tuscumbia. Online advance Tickets are available at Salt and Pepper on Eventbrite

---
---