Save the date, June 11th 5:30 to 10:00 Benefit for Gary Cavanaugh at the Commodore Grille There will be a silent auction and an incredible lineup of songwriters playing.  Gary has had a lot of health issues and has been in and out of the hospital several times He needs our help. 
The Commodore Grille is a unique restaurant and live music venue located inside the Holiday Inn Vanderbilt. Open daily for breakfast and dinner.   Live music is hosted 7 nights a week at the Commodore Grille featuring original songs from the original performers.   The live music begins nightly at 6pm.
Tonight's lineup (subject to change):
5:30 Doug Robertson, Mike Villines, Kristan Mikala, Kennedy Taylor, Steve Stern
6:00 AJ Bigler, Scotty Combs, Meg Williams, Greg Matthews, Norm McDonald, Micah Nortrup
6:30 Dave Isaacs, PJ Steelman, Richard Trest, Alayna, Paul Ivy
7:00 Gary Cavanaugh, Karree J Phillips, Bob Huston, Scott Barrier
7:20 Bob Spanburgh, Anna Sullivan, Lee Rascone
7:35 Jan Buckingham, Dave Gibson, Joel Shewmake, Paul Jefferson
8:00 Jerry Foster
8:15 Antoinette Olesen, Buddy Farler, Billy Lee, John J Kennedy
8:35 Marye Amanda, Joe Hynek, Ridge Banks
8:50 Wild Deuce, Jaycee Lynne, others
From Reidsville, North Carolina, Debi Champion began singing with cousins and friends in her home state, then as a solo performer and later with duo's and bands all over NC, SC, Georgia, Virginia, and Maryland. She then moved to South Florida in 1976. Debi's unique blend of country, rock, and jazz made her one of the area's favorite entertainers. In 1978 she won the Mark Allen Critic's Choice Award for "Best Female Vocalist" and in 1985 she won the South Florida Music Award for "Best Rock/Pop/Blues Female Vocalist". Debi has appeared in concert with such diverse artists as Spyro Gyra, Bob James, Leon Russell, Dan Seals, The Dirt Band, Gary Morris, Kris Kristopherson, Restless Heart, Suzi Boggus, Dave Mason, Marshall Tucker Band, Ronnie Milsap, Three Dog Night, The Bama Band, and Mark O'Conner. She also toured as a back-up vocalist with Miami Dolphin, Tim Foley, and sang with the Miami Symphony.
---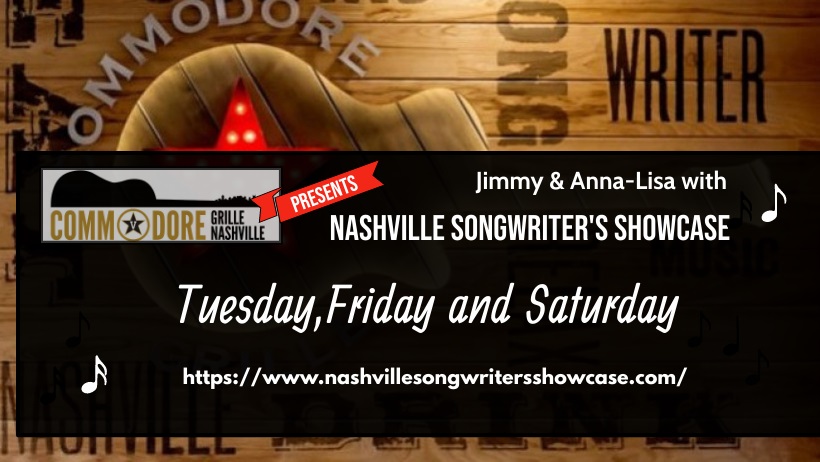 The
Nashville Songwriter Showcase
is hosted by Jimmy and Anna Lisa on Tuesday, Friday, and Saturdays.  The shows consist of songwriters playing "in the round"  Previous shows as well as upcoming show announcements can be found on the website and Facebook page
Jimmy Copens is a Recording Engineer, Producer, and Songwriter currently in the Nashville area and founder of The Ranch Studio.  Jimmy has worked extensively in the music industry as recording engineer and producer formerly at Audiocraft Recording Company, Studio B at Ligosa Studios and Goldman Productions.  He worked with some amazing bands and industry talent: The Afghan Whigs, The Mimi's, Under The Sun, Sonny Moorman, The Smothers Brothers, Hasbro Bradley/Kenner Toys, Jerry Springer, Shad O'Shea, Boomer Esiason, Cris Collinsworth, Carl Yastrzemski, Eric Davis, Johnny Bench to name a few.  More about Jimmy can be found on The Ranch Studio Website.