Tune in each Saturday at 7pm central on WFMC Jams for a new broadcast week of New Music Food Truck!
This week's show features
ONOFF
with music from
Van Go Go
,
A.J.Smith
,
Billy Nomates
,
408
,
Kid Kapichi
,
Jennings Couch
,
Starcrawler
, Ivar & the Horde,
Smashing Pumpkins
,
Muse
,
Bjork
, and
Levee
! Hosted by Cousin Corey.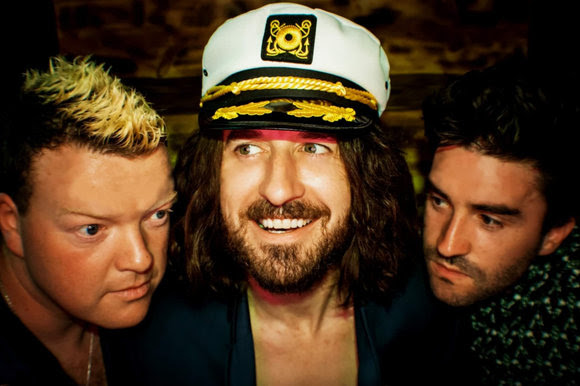 This week's menu we feature the Irish punk rock trio from Sacramento, California ONOFF! Hailing from Ireland, ONOFF are an Alt Rock Power Rock Trio that make hard hitting, energetic and melodic guitar-based rock. ONOFF consist of Lead Singer/Guitarist
Paulie, Drummer/Backing Vocalist Stevie 10 Bears and Bassist/Backing Vocalist Dave.
Following a number of successful European tours the band decided to relocate to the U.S in 2013. Since their move across the pond to Sacramento California, ONOFF have built a strong fan base due in part to their energetic live shows and consistent touring. Their momentum continues to gather speed, with multiple appearances on U.S. prime time TV and extensive airplay on major radio stations. ONOFF are gaining new fans across the globe by the second.
Their hard hitting, energetic live performances have earned them sold out, headline shows in prestigious venues such as the Whisky a GoGo, Slims, Bottom of the Hill & The Great American Music Hall in San Francisco along with countless other venues, festivals & casinos across the western seaboard. Cousin Corey has the guys spillin' in it on this week's Blue Plate Special
---
New Indie and Alternative Music Delivered to Your Ears Hot and Fresh each week! #NMFT can be heard worldwide on stations in the US, Canada, UK, Scotland, Italy, Columbia, Africa and New Zealand, as well as all major podcast platforms including Apple & TuneIn and on their website.

Corey & Jim, two crazy cousins are cookin' and servin' up only the tastiest tracks from around the world. Hosted by Corey and produced by Jim, together, these guys have decades of rock radio experience, as they been at it since they were old enough to reach their parent's music collection!  Grab a plate, a cold drink and sit back and feast upon their musical buffet. But be warned, after grubbin down at The New Music Food Truck, yer gonna need loosen your playlist! Wanna find out where to hear #NMFT? Find all the details on the website www.newmusicfoodtruck.com