Tune in each Saturday at 7pm central on WFMC Jams for a new broadcast week of New Music Food Truck!
New music heading your way this evening at 7pm central with 
The New Music Food Truck
. This week's show features
Kat Von D
for the Blue Plate special along with sizzling hot Summer menu full of new tunes from
Coastal Fire Dept.
,
The FMs
,
Gang of Youths
,
Major Spark
,
The Unlikely Candidates
, Liars,
Television Supervision
,
Hardwicke Circus
,
The Front Bottoms
,
Slothrust
,
Easy Life
,
Jen Fodor Presents
!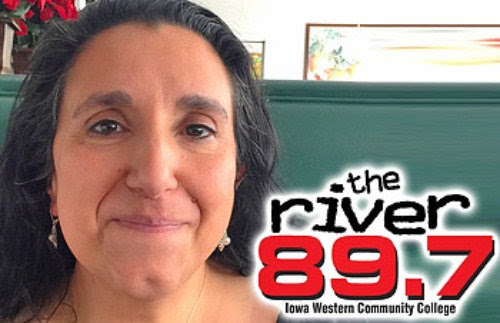 This week's menu features 89.7 The River's Sophia John.   Our newest feature, The Guest Chef is back for round 3!  We've invited folks from all area of the music industry to share with us songs from bands and artists they're loving.  So for our 3rd Guest Chef, we have Sophia John. She is the Program Director and driving force behind one of the most successful Alternative Rock radio stations in the US, 89.7 The River covering the cities of Council Bluffs, Iowa and Omaha, Nebraska.   As she says on the station's website: "I'm 100% Greek! I was raised in Cleveland Ohio, moved to the Midwest with my parents and all of my brothers and sisters. My one true love and escape is music! My all time favorite album is Nine Inch Nails 'Pretty Hate Machine.'  Lately it's been Death Grips, Twenty One Pilots, old Fishbone and my guilty pleasure Hollywood Undead!"  As our Guest Chef, Sophia sets up 3 more of her fav's, The Kaleidoscope Kid, Messer & Lines In The Sky!  On this week's show addition to Sophia's savory snacks, we have a full Winter's menu of hot, fresh new music from Lammping, Lazy Queen, Goldpark, another song from The Kaleidoscope Kid, Simon and the Astronauts, Tell Me Tell Me, The Wombats, Margolink, Flogging Molly, Wet Leg & ANGLS!  Let us know what you think of our new feature and if you or someone you know would make a great Guest Chef, we'd love to hear from you. 
---
| | |
| --- | --- |
| | New Indie and Alternative Music Delivered to Your Ears Hot and Fresh each week! #NMFT can be heard worldwide on stations in the US, Canada, UK, Scotland, Italy, Columbia, Africa and New Zealand, as well as all major podcast platforms including Apple & TuneIn and on their website. Those crazy brothers, Aaron & Jim are cookin' & servin' up only the tastiest tracks from around the world. Hosted by Aaron and produced by Jim, together these guys have over 50 years of rock radio experience as they been at it since they were old enough to reach their parents music collection! Grab a plate, a cold drink and sit back and feast upon their musical buffet. But be warned, after grubbin down at The New Music Food Truck, yer gonna need loosen your playlist! Wanna find out where to hear #NMFT? Find all the details on the website www.newmusicfoodtruck.com |