With Independence Day right around the corner, Nashville is gearing up for a bigger than ever event this year on Lower Broadway that's destined to set new records in history and in attendance!   Let Freedom Sing! Music City July 4th presented by Dr Pepper is expanding this year's event to include 17 artists on the bill over a two day period from July 3rd to the 4th and the largest fireworks show in Nashville history.
Let Freedom Sing! is featuring Old Dominion as this year's headlining act based out of Nashville and recognized by the Country Music Association Awards as "Group of the Year" in 2020.  The Academy of Country Music Awards also recognized the popular song "One Man Band" as "Song of the Year" and many other awards and recognition in the music industry.  Old Dominion will perform on the Jack Daniel's Broadway Stage located at First and Broadway along with an array of other artists starting at 4:00pm July 4th, including Levi Hummon, Cassadee Pope, and Gramps Morgan.
The Music City Walk of Fame Park will also be featuring music both days bringing a variety of music that can be enjoyed by all starting at noon each day.   Performances at the Amazon Family Fun Zone on July 3 for Prelude to the 4th will include Troubadour Blue, Craig Duncan & Friends, Les Kerr and The Bayou Band, The Woods, Jesse Labelle and Emily Earle, along with DJ Dave Audé. On July 4, performances will include SanRafaelBand, Joe West Band, Jenny Tolman, Nick Howard and Jeverson, along with DJ Rod Youree.
No Fourth of July Celebration can happen without an epic fireworks display, and this year's Let Freedom Sing! event has raised the bar.  This year's fireworks show is expected to be the biggest and longest in Nashville history lasting just over 31 minutes long and fully synchronized with a performance from the Nashville Symphony at the Ascend Amphitheater.  Gates open at 4pm for the Amphitheater for those wishing to grab a good spot early and to also enjoy the full event with the Nashville Symphony starting at 9:08pm.   The grand fireworks finale is slated to start at 9:30pm and end at approximately 10:01pm.  Since 1946, the Nashville Symphony has been a important part of the Nashville music scene being well noted as a recording orchestra with 14 grammy awards.
Plenty of food vendors will be onsite for both days so patrons can enjoy the festivities and stay hydrated.  Food vendors will be located on First Avenue, Bank Street and Gay Street Connector. Hot dog locations will be along Broadway. Food Truck Court will be located on Rep. John Lewis Way from Broadway to Demonbreun and Walk of Fame Park Plaza, and additional food trucks will be located on First Avenue near Ascend Amphitheater.
Tourists visiting Nashville are encouraged to check out https://www.visitmusiccity.com/ to learn about all the upcoming events and exciting attractions that Nashville has to offer.  Also follow the Visit Music City Social media page for updates to the event between now and the 4th.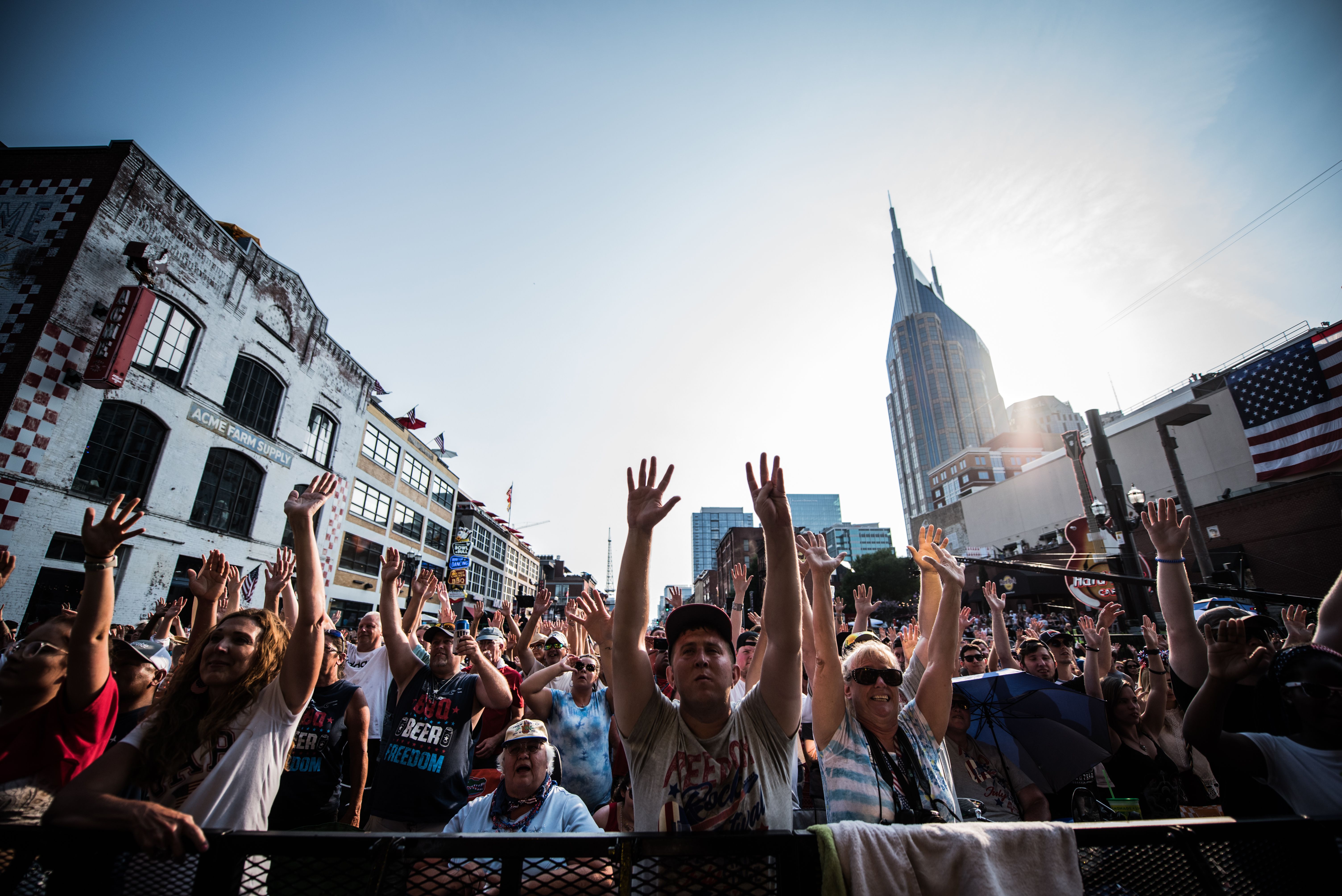 Photo Credit: Nathan Leslie @nslmedia / Let Freedom Sing!  2021