Join the Commodore Grille for a great night of live music! 
The Commodore Grille is a unique restaurant and live music venue located inside the Holiday Inn Vanderbilt. Open daily for breakfast and dinner.   Live music is hosted 7 nights a week at the Commodore Grille featuring original songs from the original performers.   The live music begins nightly at 6pm with Happy Hour specials from 5pm-6pm.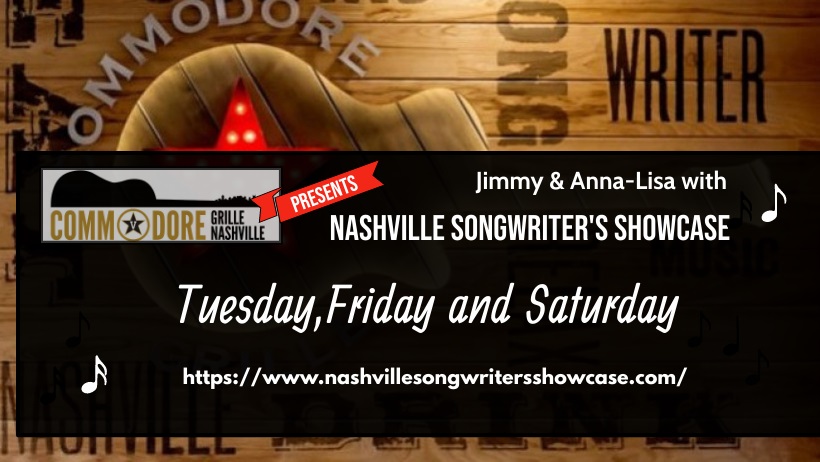 The
Nashville Songwriter Showcase
is hosted by Jimmy and Anna Lisa on Tuesday, Friday, and Saturdays.  The shows consist of songwriters playing "in the round"  Previous shows as well as upcoming show announcements can be found on the website and Facebook page
Jimmy Copens is a Recording Engineer, Producer, and Songwriter currently in the Nashville area and founder of The Ranch Studio.  Jimmy has worked extensively in the music industry as recording engineer and producer formerly at Audiocraft Recording Company, Studio B at Ligosa Studios and Goldman Productions.  He worked with some amazing bands and industry talent: The Afghan Whigs, The Mimi's, Under The Sun, Sonny Moorman, The Smothers Brothers, Hasbro Bradley/Kenner Toys, Jerry Springer, Shad O'Shea, Boomer Esiason, Cris Collinsworth, Carl Yastrzemski, Eric Davis, Johnny Bench to name a few.  More about Jimmy can be found on The Ranch Studio Website.  
---