Tune in each Saturday at 7pm central on WFMC Jams for a new broadcast week of New Music Food Truck!
 This week's show features The FMs along with Single by Sunday, The Foxies, The Motor Trade, Tessa Violet, The Trews, Don't Believe in Ghosts, Kat Von D, Left Field Messiah, Cold War Kids, The Greeting Committee, Orson Wilds & Ring Finger No Pinkie!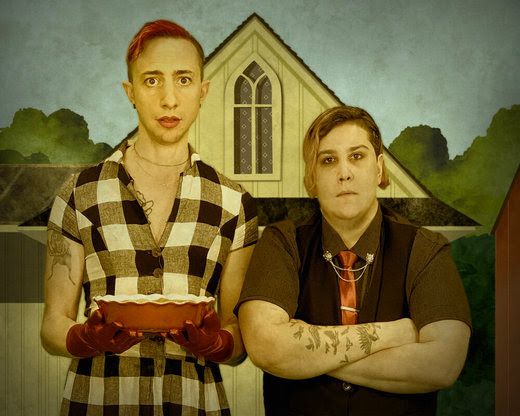 This week's menu features Ithaca, New York's bastion of queer music,The FMs.   Formed in 2017 by Matte Namer (they/them) and Frankie Rex (they/he), who met in high school in New York City, the Brooklyn-bred band exudes subversion with style (and of course, sex), rethinking long-standing societal programming, and the rebellion of simply being one's authentic self all through their politically charged pop missives. With their name even being a play on the gender binary, that fluidity has always been front and center, showcased as much in the band's music as their evocative, seductive videos and stage performances.  We talk with them on this week's Blue Plate Special.
---
| | |
| --- | --- |
| | New Indie and Alternative Music Delivered to Your Ears Hot and Fresh each week! #NMFT can be heard worldwide on stations in the US, Canada, UK, Scotland, Italy, Columbia, Africa and New Zealand, as well as all major podcast platforms including Apple & TuneIn and on their website. Those crazy brothers, Aaron & Jim are cookin' & servin' up only the tastiest tracks from around the world. Hosted by Aaron and produced by Jim, together these guys have over 50 years of rock radio experience as they been at it since they were old enough to reach their parents music collection! Grab a plate, a cold drink and sit back and feast upon their musical buffet. But be warned, after grubbin down at The New Music Food Truck, yer gonna need loosen your playlist! Wanna find out where to hear #NMFT? Find all the details on the website www.newmusicfoodtruck.com |