2021 Lynchburg Music Fest is held in Tennessee July 8th through 10th featuring a variety of artists, food, drinks, merchandise, and games.  Nashville artist Carrie Welling who is currently on her "happy first summer tour 2021" kicked off the Third annual festival Thursday evening.  Also hailing from Nashville and performing at Lynchburg Music Fest is Brooke Lynn who is celebrating her recent release of her single titled "Exes".
Two time, grammy nominated pianist James T Slater performed a set at the Jack Daniels Club Select Stage.  James is known for songs recorded by artists including Carrie Underwood, Tim McGraw, and Willie Nelson to name a few.  Bryce Reeg took the stage afterwards providing an acoustic performance including harmonica by Dayton Olson.
The first day of the festival closed out with Resurrection, a Journey Tribute Band bringing crowd pleasing tunes from the 70's and 80's featuring Ryan Christopher, Vic White, Jim Handley, Steve Sheroan.  While the band brings a very well replicated experience to the sound of Journey, Jim Handley, drummer for Resurrection, has first hand experience with being on tour with Journey.  Jim occasionally filled in with Journey's band when their official drummer was not able to.  The band is currently on national tour stopping off at many parts of the U.S. this summer.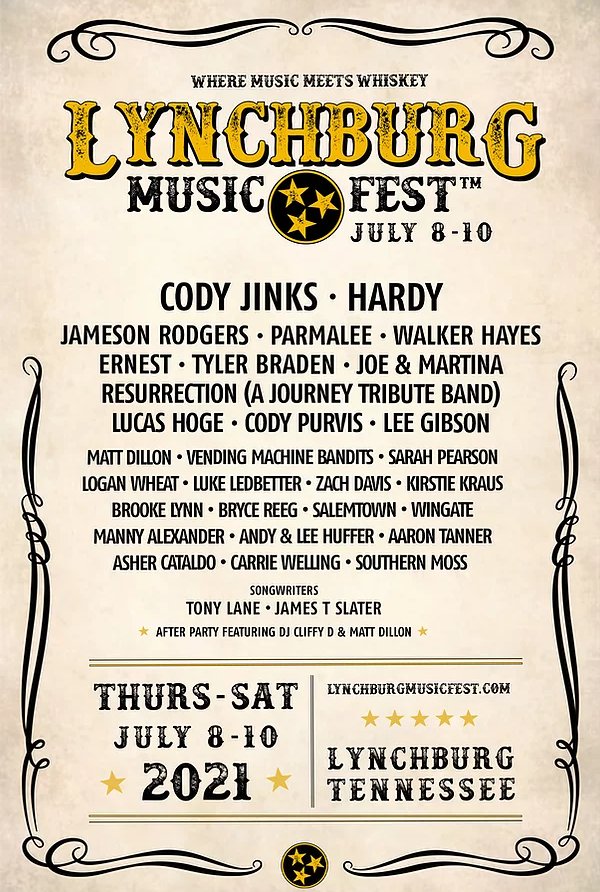 Headliners include Cody Jinks and Hardy, plus over 30 bands over 3 days on 3 stages. Get ready to party with Lynchburg Music Fest this summer. The amazing Lynchburg, TN is not only home to the historic Jack Daniels distillery, it's home to the Lynchburg Music Festival 100+ acre site offering 3 days of live music, whiskey, beer, camping, food, games and more.