Tune in each Saturday at 7pm central on WFMC Jams for a new broadcast week of New Music Food Truck!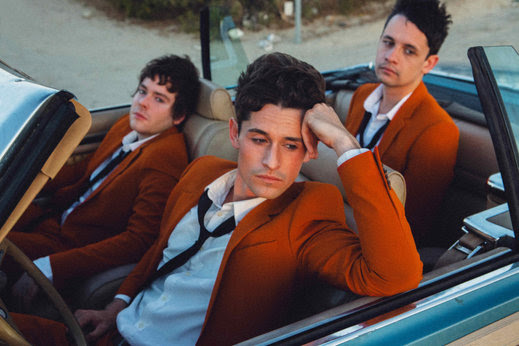 This week's menu features LA's Alt Power Trio,Twin XL.Los Angeles trio, Twin XL, is the creative brainchild of songwriters and producers, Cameron Walker-Wright (vocals) and brothers Stephen Gomez (bass) and John Gomez (guitar).Though Walker-Wright and the Gomez brothers have been working as full-time writer/producers, a part of similar social circles and often ran into each other at random gigs across the country for years, it wasn't until early 2017 after another serendipitous meeting at a LA house party, that they decided to try a day in the studio together.  The synergy between the three was clear and Twin XL was born - a perfect storm of the glistening retro synths, catchy bass-lines, memorable melodies and Walker's smooth vocal.  From top-class performing musicians each in their own right, writers, producers, friends, and now band mates, TwinXL are paving their way to the top turning a night out at a party into a nostalgic and distinctive musical sequel full of indelible anti-pop glory.  We talk with Cameron on this week's Blue Plate Special.
Summertime
Fresh New Music
#NMFT
rolls this week featuring
Twin XL
with music from
Sam Evian
Alfie Templeman
MNDR
The Marías
DZ Deathrays
Tough On Fridays
The BRKN
ZAYDE WØLF
Rebelution
ISLAND
The Great Leslie Band
&
Lavender Galaxy
!
| | |
| --- | --- |
| | New Indie and Alternative Music Delivered to Your Ears Hot and Fresh each week! #NMFT can be heard worldwide on stations in the US, Canada, UK, Scotland, Italy, Columbia, Africa and New Zealand, as well as all major podcast platforms including Apple & TuneIn and on their website. Those crazy brothers, Aaron & Jim are cookin' & servin' up only the tastiest tracks from around the world. Hosted by Aaron and produced by Jim, together these guys have over 50 years of rock radio experience as they been at it since they were old enough to reach their parents music collection! Grab a plate, a cold drink and sit back and feast upon their musical buffet. But be warned, after grubbin down at The New Music Food Truck, yer gonna need loosen your playlist! Wanna find out where to hear #NMFT? Find all the details on the website www.newmusicfoodtruck.com |