WFMC Jams - in the house at the grinder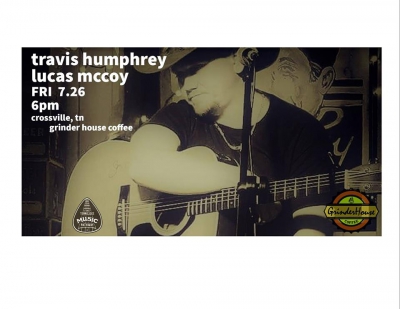 Welcome back Travis Humphrey and special guest Lucas McCoy. Real sons of Tennessee and real artist. Ready to rock?
Travis and Lucas bring real life and real love of music to each of their performances.
A solid Southern Rock, Blues, Americana, and flatout rock and roll. Join us and welcome back Travis Humphrey and Lucas McCoy Grinder House favorites!
Welcome back gentlemen.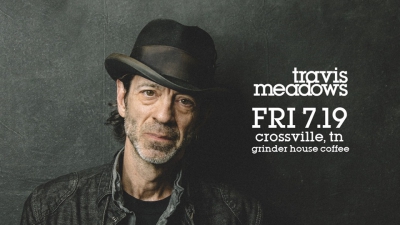 An orphan who turned into a preacher
A preacher who turned into a songwriter
A songwriter that turned into a drunk
A drunk that is learning to be a human being

Travis Meadows spent years trying to escape himself. He's anything but selfish, so he'd find a way to get away––a bottle, a bag, a sermon––and he'd share it with everyone. That was then. Now, Meadows isn't trying to get anybody lost or high. Instead, he's trying to get every single one of us to settle in deeply to ourselves––and love what's there.

"I feel like what I'm doing is giving people permission to be okay with who they are, where they're at now," Meadows says. "A lot of us say stuff like, 'If I'd been married to this guy or this girl, or if I had enough money, or if I had a better job. If I wasn't an alcoholic, or if I drank more. If this, if that, then, I think I could be a better person.'" He pauses. "I think the key to life is being okay with who you are."

Meadows isn't just waxing poetic about the perks of self-acceptance. The 52-year-old has clawed his way to the peace he's found, and his willingness to map that journey through his songs has saved more lives than his own. On his anxiously awaited new album First Cigarette, Meadows proves once again that when he sings the truth he's living, he can set us all free. "I've always put secrets in my records, but I had this ring of fire that nobody could get in––a defense mechanism from my childhood. Nobody gets too close," he says. "I think this record is a way of me letting people in a little more, inside the ring of fire."

Disciples have been dancing by Meadows' fire for years. Eric Church, Dierks Bentley, Jake Owen, Mary Gauthier, Brandy Clark, Blackberry Smoke, Hank Williams, Jr., Wynonna Judd, Randy Houser, and others began writing with, recording, and praising Meadows as soon as they heard his work. Songs such as "Riser," the title track for Bentley's 2015 album; Church's "Knives of New Orleans" and "Dark Side"; and Owen's "What We Ain't Got" are all Meadows-penned chart-climbers.

Much of the attention began in 2010, when Meadows self-released Killin' Uncle Buzzy, a raw masterpiece that left listeners stunned. "I was in rehab, and one of my counselors suggested that I keep a journal, so I basically made a record out of that journal," Meadows says. It became an unlikely phenomenon, handed from friend to friend and artist to artist with whispers of, Listen. It's the best thing you'll hear all year. In 2013, Meadows followed Killin' Uncle Buzzy with the acclaimed Old Ghosts and Unfinished Business. "On Killin' Uncle Buzzy, you're listening to a guy trying to figure out how to get sober," Meadows says. "Then two years later, I was sober, but I wasn't that guy anymore. That's what 'Old Ghosts' was––me just trying to move forward. I feel like this record is more accessible. People can listen and go, 'Well, hell. I've done that, too.'"
"In the House" at the GrinderHouse is broadcast live on WFMC Jams every Friday from 6-8pm central.